General
Generally interesting and funny experiences of members in making wine.
A Piece of Grandpa's Belt
Written By: George Wright
Creation Date: Tuesday December 1st 2009
Last Updated: Tuesday September 10th 2019
Most of the Guild members know about the story of someone making a wine from a pudding. That was Harry Gilham who found a Christmas pudding when he was de-icing his freezer. It tasted just like yuletide. A similar story is about someone making wine from a boot.
Now I know that somebody associated with the Frankston Winemakers Guild once made wine from an old boot he found in the garage but I didn't have the dubious pleasure of tasting that one.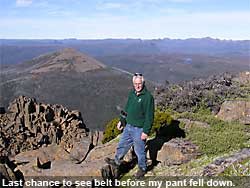 ...Pic is George at Cradle Mountain
However, these examples spurred me to make a liqueur from a leather belt. The background to the belt is explained on the label on the bottle of the liqueur. It also demonstrates why that belt was so important to me and clarifies why anybody would take the trouble to liquefy a belt. This is what the label says:grandpa-belt-wine
William Wright was born In Lanark, Scotland around 1880. He subsequently married Elizabeth and in 1925 the couple, accompanied by their kids Beth, Joan and George emigrated to Australia.
Wul, as Lizzie called him laboured on the construction of the original Tom Ugly's Bridge in Sans Souci, Sydney prior to joining the gang of Kogarah Council, eventually rising to foreman status.
On Wul's death in 1950, George inherited the belt from the trousers of his father. When his son, George Junior left home to work as a forester in 1960, aged 18 his dad gave him Grandpa's well-worn belt. He wore it regularly on his work pants for the rest of that century and into the next.
Grandpa was a stern disciplinarian and when he warned his four grandchildren to behave themselves he would grab at the buckle of the belt and threaten to give the scallywags 'a piece of me belt'. Nobody ever got the strap.
On 4 Oct. 2007 the belt broke for no apparent reason. George cut it into 1mm strips and extracted a century of work in alcohol.
The essence is the sweat, the tears, blood and laughter.
This extract celebrates the challenges of life, not the achievements: the living is important, not the accolades.
The resultant liqueur is for descendants of Wul and Lizzie to also take a belt, a toast for family members to also taste 'a piece of grandpa's belt'.
The liqueur is used as a toast at celebrations of life and death within the Wright family... weddings, funerals, engagements, births and so on. It's good that these events occur infrequently because the taste is reminiscent of an old leather belt.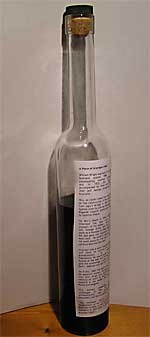 After the belt broke and I made a liqueur I salvaged the buckle and purchased a good quality leather belt from an op shop, fashioned a new belt on Grandpa's buckle and donated it to my son with the following fatherly advice:
Future Wearers of the Wright Buckle
Take heed, all inheritors of grandpa's belt, whatever their sex or sexual orientation: this belt represents a tradition of honest toil and pride in self. People who buckle up their private parts with the Wright belt never feel exposed.
For over a century the buckled belt has been impregnable, an unfailing contraceptive. But the clan prospers only when restrictions fall away, liberating the spontaneity inherent in the Wright genes.
Beware. If you lower your pants you may be vulnerable. Grandpa's dictum applies today as yesterday: there's muckle a knuckle if you unbuckle.
Back to top
hmm ... What's This?
Written By: George Wright
Creation Date: Saturday May 8th 2010
Last Updated: Thursday August 29th 2019
This week we purchased a new house. We must move. We must move not only me and Carol, but all our stuff. That means ribbons won at dog shows, things I made from wood and steel that don't work like they ought to and bottles of wine: some good, some probably bad and some definitely reject. I have a vinegar barrel for things that go bang in the night, but this is decision-time about rejects and the vinegar barrel is not an option. It's move-it or decant-it.
Today I found a 2001 bottle of lemon wine. My records show that it was an OK wine but nothing special. It was too in acid and highly bitter. I remember thinking that I had not sliced the lemons to Harry's specifications to a maximum if 3mm. Nor did I top and tail the lemons like he said.
The bottle had been lying quietly in a rack under the house for almost a decade without disturbance but an inspection showed that much of the contents had disappeared. In fact, there was only about 700ml left in a 750ml bottle. Before disposing the contents into the septic and the bottle into the yellow recycling bin I pulled the cork and sniffed at the contents. Hey, that's not too bad! The taste confirmed that it was pretty good! I drank it with a chicken dinner and the acid of the wine bit through the fat of the chicken and complimented the vegies, especially the carrots, and made a wonderful addition to the evening meal. I was sorry I had no visitors with whom to share the experience of tasting, if not bragging.
As I neared the end of the bottle I noticed that the previously clear wine had deteriorated into a cloudy mess. The taste retained its flavours but the wine was a visual disaster. I managed to close my eyes for the rest of the meal and savoured the remnants of a pretty good vintage without optical assistance.
And now, late in the evening, in a happy state of mine I reflect on what happened. I think that in the intervening years that the wine developed into a much better wine than I had previously tasted. In fact, my memories are crystal clear... it was a pretty ordinary wine in its original state. The intervening years had given the wine time to mature. Perhaps the acid held it together.
In addition, the fact that there was a cloudy deposit meant that there was probably some residual sugar present and the wine continued to ferment in the bottle to some extent. The cloudiness was the dead yeast cells deposited into the bottle. I was lucky that the cork had not blown out. The carbon dioxide produced by the ferment probably stopped oxidation of the wine while it matured. A combination of a poor cork that let out some pressure but didn't let too much oxygen into the bottle probably allowed me to enjoy a wonderful chicken dish with a superb bottle of wine.
Are there any lessons here? Perhaps we should approach the winemaking task with the expectation that some experiments will not deliver the dreams we anticipate. Not everything will work out, but amateur winemaking can offer some amazing gastronomic experiences. Just be prepared to keep a vinegar barrel for the disappointments you will experience along the way. If you don't have a vinegar barrel, there are other alternatives. As a last resort, there is the sewer. I'm sure you will amaze yourself with what you can achieve, even if it is a surprise after letting the bottle mature. But decant the ones with faults tasting like cardboard, geranium, nail-polish or bakelite (after the light-switch shorts) – they are caused by nasties in the wine and will never improve.
Back to top
Sparkling Adventures
Written By: Chris Ramsay, Tim Ross and Andrew Gillam
Creation Date: Friday November 20th 2009
Last Updated: Thursday August 29th 2019
This is an adjunct article to George's famous "making sparkling wine in underpants" article of some time back - while we cannot hope to inspire such humour based purely on visual imagination, there are other ways to create entertainment when attempting to make sparkling wine. We hope to add a visual reality element in this article.
Since its inception our co-operative have found it particularly useful to have a group of 3 when making wine - this means that two people can make a decision, then thumb their noses at the other person and say "sorry, you're out voted".
So with no names mentioned to protect the guilty, this vintage's "side project" was - well, seeing we're making more Shiraz, let's try a batch of sparkling on the way along. So far, so good …
We had a plan...
sparkling-adventures Then it sorta went downhill. The tough bit with sparkling is always the secondary ferment … so how about we just take some of our fermenting wine when it has reached the right SG and bung it in some bottles … then we could just blend it down with some of last years wine as well so it's not too potent …
Rightyho then …
great idea … a few back of the envelope calculations, some dubious measurements with a SG hydrometer and away you go
Fortunately over the next few months only one bottle exploded … and mostly download, not upward all over the ceiling as with George's blueberry …
but the continual leaking of wine through the caps and the alarming increase in ullage space over time suggested some serious pressure was building up in the bottles.
D-Day
And so D-day finally arrives - that's Disgorgement Day of course. Tim takes charge of the dry ice … confidently predicting the time required to freeze the cap, despite the clearly large amount of sediment due to the use of actively fermenting wine.
The first "test" bottle is capped and placed on the ground just off the edge of Chris's paving under the house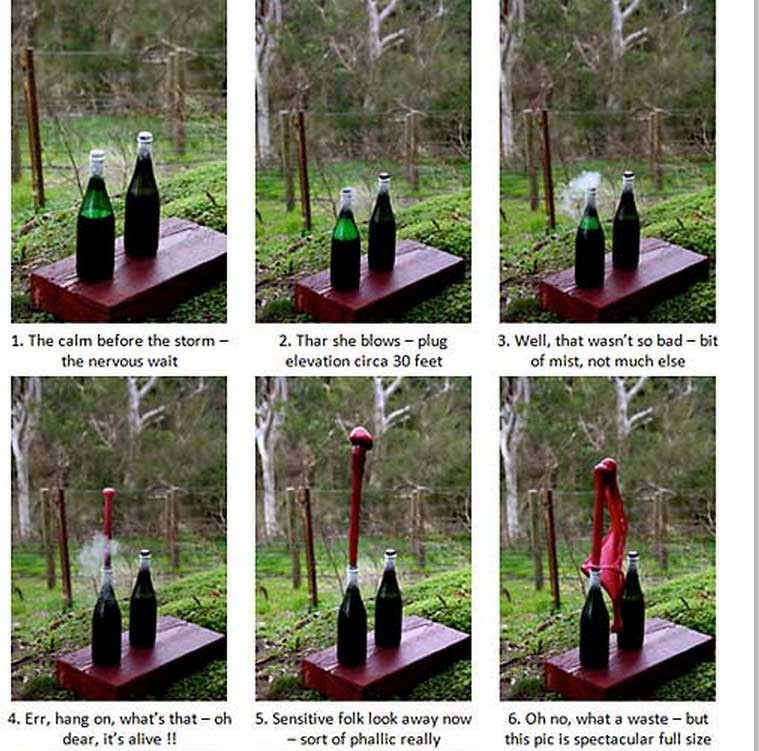 … we wait, we watch …
the telltale bubbles begin to appear around the edges of the plug, the plug itself slowly starts to rise …
then bang - a solid projectile shoots 30 feet into the air, closely followed by a 3 foot plume of dense red Shiraz … accompanied by a wide spray of "collateral damage" that ends up sprayed on us, the windows and various other parts of the house.
About a 1/3 of our bottle of precious wine is all that is left …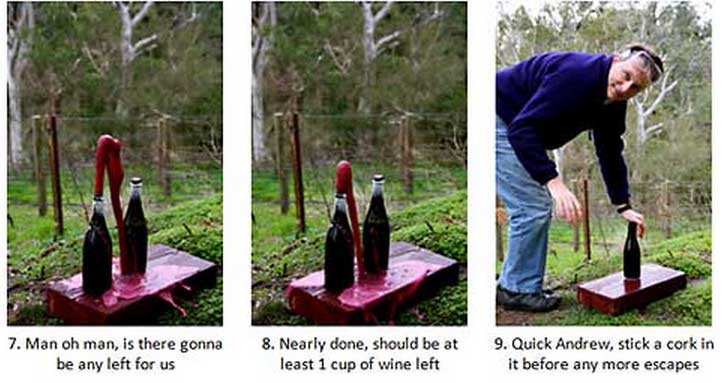 Take two...
Right then, that didn't quite go as planned - anyone think we may have had just a tad too much pressure ? We refine our technique to ensure a higher retention of wine - which basically consists of rushing in and sticking a hand over the bottle once the plug has disappeared into the stratosphere … very effective but with a minor side effect of dry ice burns and Shiraz pretty much sprayed at all angles if you are not careful.
We eventually recover a little over half our original volume, with a careful note to be a little more conservative with pressure calculations next time around.
And in the interests of the further wine education of Guild members, we nobly sacrificed most of the contents of one more bottle to capture the pictorial record of the Ramsay / Ross / Gillam Sparkling Shiraz disgorgement day …
Back to top